Visualize Your Favorite Radio Station – SYQEL Releases Music Visualizer Desktop Radio App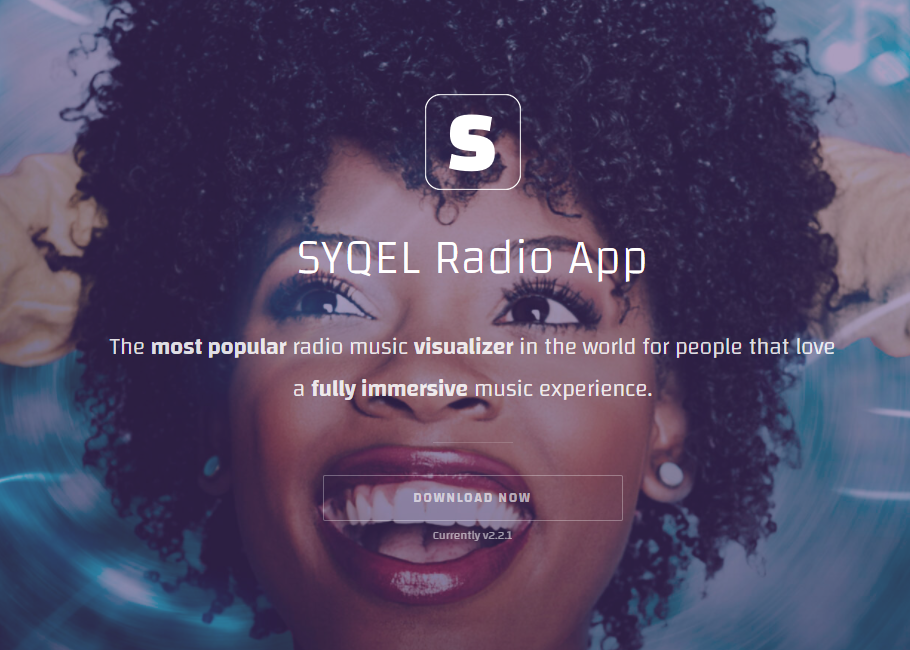 Audio-Reactive Music Visualizer Radio App Creates an Immersive Experience for Radio Listeners Anywhere on the Globe
Monday, January 25, 2020 – Boulder, CO – SYQEL, the app that produces high-quality visuals with no effort from listeners – has just released a desktop radio app that visualizes radio stations from all around the world. It is available for download on Windows and macOS devices, and there is no subscription required. It will soon be available on several devices, including Linux, Android, and iOS, and smart TVs.
SYQEL has revolutionized the listening experience for music lovers all over the world by providing an easy-to-use desktop app that connects to all your favorite radio stations. As music from your chosen radio station is played through your computer speakers, the SYQEL radio app automatically reacts to the audio stream. The app relies on AI and auto-reactivity to create real time, unique, stunning visuals for your music. The end result is an immersive, enchanting listening experience.
The radio app is perfect for radio listeners from around the world. It generates 8K ready animations for any occasion involving music. Whether you're playing music at an event, during a meditation session, or have just turned music on in the background at a small get-together, the SYQEL radio app is there to create stunning visuals while you just sit back and enjoy.
The Global Appeal of the Radio App
The SYQEL radio app is built so that you select from thousands of radio stations easily filtering by country, genre, or radio station's name. All you need is a stable internet connection to enjoy any of 5,000+ online radio stations.
Getting started is simple: Navigate to SYQEL website and click "Download" for your device type (you can download for Windows, or for macOS). If you are downloading the Windows version of the radio app, you will be redirected to the Microsoft store, and download from there. If you are downloading the macOS version, the installer file will download directly to your Mac. Because there is no signup required, as soon as you launch the app (and have a WiFi connection), you can start using it.
You can use the "Country" search bar to search for a collection of live radio stations from a specific country, or type in a specific genre or radio station's name. If you have no idea what you want to hear, scroll through any of the 5,000+ radio stations and choose. Press the play button, and the app immediately starts playing the music and visualizing the audio stream.
"Music is the unifying language of life. The SYQEL radio app transforms what used to be an auditory only medium into a fully immersive experience with mesmerizing visuals that enhance any track or song. We are excited to enhance a medium that is loved by billions of people worldwide."

Yoav Shalev, Founder, SYQEL LLC
About SYQEL LLC
Creating a high-quality visual immersion experience for DJs, streamers, and listeners – with no software learning curve – is what the makers behind the SYQEL music visualizer app are dedicated to. SYQEL combines AI and over 50,000 visual frames and transitions to visualize your music. It auto-reacts to PC desktop audio or microphone input, immediately after installing the app. With no complicated setup or software interface to learn, there are no barriers to use. Anyone can create a visual listening experience with SYQEL: The music visualizer app.